Welcome to my Gallery.
Browse through pictures of my work. Discover the concepts behind each piece by reading stories. Please enjoy.
---
Ordering Information
---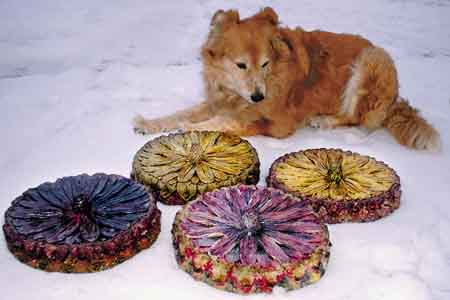 Echinacea Bowl
Like early flowers in the snow, colorful statues make the heart long for spring.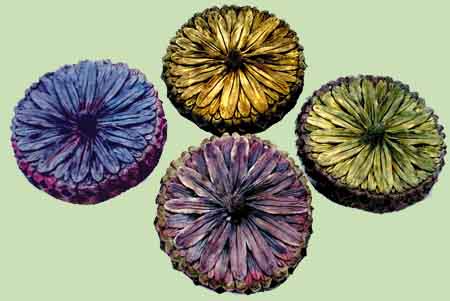 13" diameter x 3" high.
~ 14 pounds.
Echinacea purpurea, or Prairie Cone Flower, is grown in large, breathtaking fields at the foot of Mount Adams. The flower's name is from the Greek for hedgehog and refers to the stature of the hard spiny central cone. Medicinal immune system actions are convincing; hence, the prehistoric Native American use and commercial agricultural success now.

This statue's success as a ground bird feeding station can not be overstated. Unless you provide them with a proper station, ground-feeding birds such as Jays, Mourning Doves, and Oregon Juncos must scratch through hulls and detritus fallen from hanging feeders.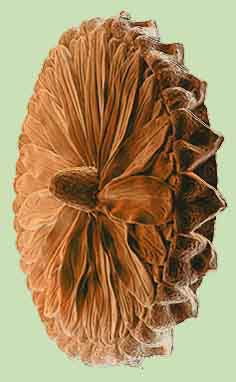 This statue is easy-clean, durable, and an affordable way to add classic sculptural structure to your landscape.
Art patrons also appreciate this piece by the fireplace for herb fire sticks, and in the bath for salts and soaps. Hanging hardware is cast in if you prefer to display this finely detailed piece as a medallion.
Price: 59.99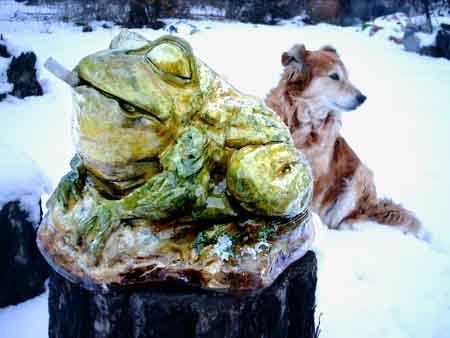 Frog
14" wide x 13" deep x 10" high
~45 pounds

The Frog signifies what is unseen. Veneer is not all there is. This symbol prompts you to consciously explore what is really going on. What fringing outsider holds the key to my epiphany? What "toad" in my life is really valiant, charming - my troubadour? After thinking for myself, "kissing the toad," I am rewarded by friendships, ideologies, and arts I had believed were loathsome outsiders. When I kiss the toad I reveal the true boons in my life.

Price: 149.99
---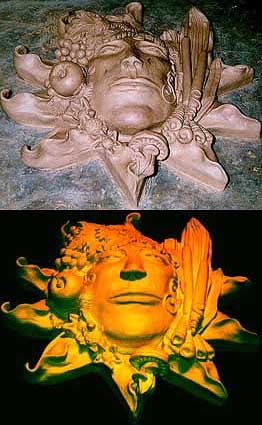 Green Woman
14" diameter x 3.5" high
~12 pounds

The Green Woman is designed as a counterpart for the Green Man figures seen in hundreds of forms in ancient cathedrals all over Europe, north Africa, and the near east. As Christianity arose, the church of course hired local stone cutters and masons to build cathedrals. These local people reconciled their ancient religions with Christianity by including images familiar to them in the cathedrals. Although Green Man is European, archetypal goddess images occur cross culturally. Local flora & fauna integrates with the diety.

Green Woman fits with the Columbia's petroglyphs, such as Tsagaglalal (She Who Watches) near Wakemup mound at Horsethief Lake State Park. I surrounded the Green Woman with plant species indigenous to the Columbia River Gorge: King Bolete and Psylocybe semilanceata mushrooms, blackberry blossoms, apple, grape, reeds, camas leaf and perriwinkle. Each detail has meaning; for instance, the Camas Leaf refers to the first time the Lewis and Clark expedition dined on camas root. At this point in their journey along the Columbia, the party was starving. They refused salmon, suspecting its pink color meant it was inedible. In spite of the native peoples' vast warehouses of pemmican the Captains Lewis and Clark had traded almost everything, even their last black cooking kettle, for dogs to slaughter. Finally they reached the place on the Columia camas grows. When local people offered roasted camas root, it reminded the men so much of potatoes they feasted. Little did they know - until one gets used to camas, it causes gas. The party was so fowl the Captains ordered the men to stop eating camas. However, it was very obvious the men kept disobeying that order.

Each detail on the Green woman has similarly expansive lore.

represent sunset on a prehistoric road. Seventy years ago my maternal grandfather bought a homesite near Goldendale, Washington, which included some large round indentations in the earth. They are about four feet deep at center and 20 feet in diameter, rounded down, as if large globes hit there. We thought Grampa made us a play place for reclining with our feet touching the bottom. We pulled grass and watched clouds change from turtles to mountain lions.
Years later when I asked Grampa Jim to describe the campground as it was when a local Native American tribe pitched their teepees over those impressons he hesitated. There was not a "single" description. He had witnessed them changing.
First the people arrived with horses, travois, and wagons. Grampa went out smiling. He liked visiting and joking around by the fires. The teepee poles and teepees were taken off the animals and put up over the dugouts. The people built fires inside at the bottom of the concavities. He could smell sweating horses, hear kids laughing, see women brushing pine needles from basalt mortars and pestels left in the campground like stone furniture used by generations of women. Gramma and the other women traded food. The people camped a few days, a short while. They were on their way somewhere. Chief Levi waved from his horse and they went, smiling, to the next camp.
Grampa's place was one springtime camp on a long ancient circular road. In spring they started from the Yakima Valley and waded a sea of grass across Toppenish Flats. Through the steep volcanic Simcoes they wound down Satus Pass to a celebration at the stretching, grassy Klickitat Valley, at Grampa's. The people summered in the cathedral-like Columbia Gorge, fishing, working at art, trading and visiting with other people. Their petroglyphs are still viewable at Horsethief Lake. You can see where they autumned on Mt. Adams collecting huckleberries and blackberries if you look where the sun sets there. They dropped back down into the soft Yakima Valley for winter.
One spring one dusty black Model T Ford was mixed in with the horses. In following years blue exhaust rolled around the short grass and massive pines and the smell of sweating horses was gone. The people unloaded from those original RVs their teepees and long poles and set them up over the dugouts. Too soon the people loaded up the long poles and waved from the black Fords with laughter and smoke still in the air.
Grampa taught me about aging after watching himself on a VCR tape. "Who is that old duffer?" he said, surprised. "Oh, that's me!" We all laughed. He said that old guy on tape thought the same thoughts and felt the same way, pretty much, as he did when he was 24. I realized I was talking to the same man who lived in the 30's. Only his outward appearance had gone. I know the people loved him like I did.
Where is that party that no longer travels the ancient road?
The Green Woman is infused with timeless feminine energy to be enjoyed by your family for generations to come. It is perfect for your grotto, bath, mantle (or over the pellet stove), over the kitchen window, and (oh, yeah!) garden, picnic area, campground, and deck. Hanging hardware is cast in to the statue.
Price: 79.99
---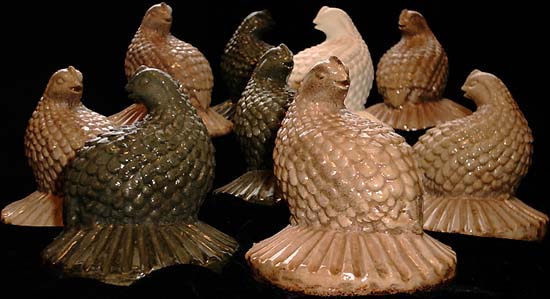 Quail
4.5" diameter x 4.5" high
~3 pounds
This is the only statue I offer that I did not sculpt. I found the mold in a junk shop in Portland, Oregon for a quarter. I like it, so here it is.
Price: 7.99
---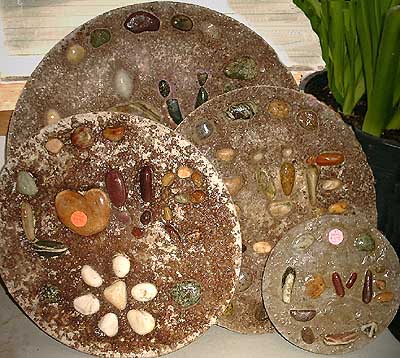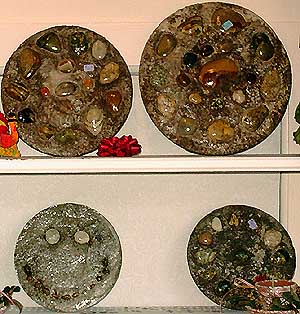 Stepping Stones
Left: Lovestones. Right: Various patterns.

20", 14", 12", 10", & 8" diameters
~4 to 30 pounds

I hand pick colorful erratic river rocks from the Columbia Gorge for my mosaic patterns. Erratic rocks are carried on ice from a remote area. The erratics in the Gorge were brought here from British Columbia, Montana, and Idaho approximately 10,000 years ago with Bretz's Floods, a series of perhaps 50 of the world's greatest known deluges.(Local Geology Page will be up soon!)

A river's demeanor in a dream can reveal the demeanor of the unconscious; that is, a dream of deluge reveals overwhelming emotion. A terrifying flood transforms landscapes and releases old, built up debris. The channel is realigned, balance and clarity restored, and new life grows beside her. Laying these stones on your paths is a powerful reminder of your own personal transformations.

Price: 3.99 to 49.99
---
I hope you enjoyed my e-Gallery.
Coming Soon! Small Frog, Birdbath, Lion, Pheasant ... keep checking in as my body of work grows.
Thank You :^)